History & Vision
Chetana Sangeet Natya Academy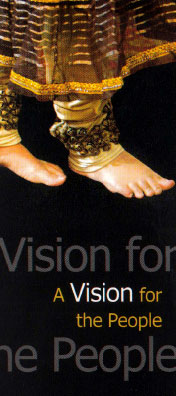 Chetana Sangeet Natya academy is a cultural, educational and charitable trust whose service is open to the public with following aims and objectives.

1. To impart scientific training and research in music, dance, vocology, yoga, meditation and other Indian art forms and to give live performances to disseminate human values and lofty ideals for life

2. To promote creativity

3. Aiming at national development and integration and to foster truth, love, justice and communal harmony

4. To document Indian culture rarities
Chetana Sangeet Natya Academy is the brain child of Dr.Fr.Paul Poovathingal CMI, popularly known as "the singing priest of India" (Paadum Pathiri) for research and training in performing arts. On 2004, July 3rd it was blessed by Fr. Jerome Cherusserry, then Provincial, at AICUF House, Mylipadam, Thrissur. Academy was formally inaugurated by Padmabhushan Dr.K.J.Yesudas on 1" April 2005 in a function at Regional Theatre, Thrlssur in the presence of His grace Varkey Cardinal Vithayathil, Major Archbishop of Syro-Malabar Church, Adv.Therambil Ramakrishnan M.L.A. - honourable Speaker of Kerala Assembly and other dignitaries.

Chetana Sangeet Natya Academy has four different branches:-
1. School of Indian Music
2. School of Indian Dance
3. School of Vocology
4. School of Yoga & Meditation

Within short time Chetana Sangeet Natya academy earned a commendable position in the cultural map of Kerala with its dedicated and intensive training programme in the field of Fine Arts and Vocology. It became the first institution in India to conduct a Vocology workshop and certificate course. Chetana Sangeet Natya Academy is the only institution in India to have a "Voice Clinic" for voice users especially for musicians.
Chetana Music College
Chetana Music College is an offshoot of Chetana Sangeet Natya Academy. It was officially
inaugurated by Padmabhushan Dr.K.J.Yesudas on 1st April 2008
at a function at Chetana Music College Auditorium, Mylipadam, Thrissur. Inaugural function was presided by Archbishop Jacob Thoomkuzhy(Archbishop Emiretus, Thrlssur). It was the actualisation of a long cherished dream of Thrichurians to have a music college in the cultural capital of the State. College is situated in the campus of Chetana Sangeet Natya Academy at AICUF house, Mylipadam, Thrissur.
It offers various courses in fine arts.
Click here
to see the courses offered.
Chetana Sangeeta Gramam
Chetana Sangeet Natya Academy is a humble beginning of a dream project called Chetana Sangeeta Gramam (Chetana Music Village). We propose to realize our vision through the foundation of Chetana Sangeetha Gramam, a place where we help students experience God and ethical values through music and dance. This Is a unique Institution In the country where, we plan to combine both Gurukula and Institutional methods of teaching and try to Impart holistic music and dance education for the future generation. We integrate music and education with yoga, meditation and vocology (Voice habilitation and voice therapy). Chetana Sangeetha Gramam has following five elements.

1. Ganashram
It Is a place for Nadayoga. It Is an attempt to highlight the spiritual aspects of Indian Music through music: meditation. This place will be the spiritual energy source for the whole campus. People from across the globe can come here and can experience God - Peace and Tranquility - through music.
2. Gurukulam
It Is the home for sangeeta natya abhyasam. It Is a place for systematic music and dance education. University approved degrees and diploma courses will be offered In dance and music.
3. Gaveshanam
It Is a centre for music and dance research, with an archive for audio and video documentation. National and International level seminars will be conducted In the areas of music: and dance education, music therapy and healing music. Another key research area will be Vocology(voice and its habitation).
4. Akhyanam
This Is a centre for performances of classical music and dance National level music and dance festivals Chetanotsavam) and talent search programmes In schools and colleges will be coordinated.
5. Avishkaram
It Is a place for music and dance production. Production of prerecorded audio CDs, DVDs and VCDs, publishing of notation books, music history books, performance oriented dance and music production are other major areas.